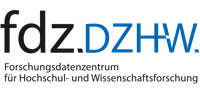 The DZHW has set up a Research Data Centre (Forschungsdatenzentrum, FDZ) in accordance with the German Data Forum (RatSWD)'s criteria. The German Council of Science and Humanities (Wissenschaftsrat) had often emphasised the need for such a centre both for the DZHW and for higher education research in general, to fill the gaps in the research data infrastructure. The FDZ is already supporting researchers with data access. The FDZ is available to the whole scientific community as a permanent, reliable research infrastructure feature and guarantees transparent access to anonymised microdata using a range of data access paths. The Scientific Use Files comprise an important factor in the transfer of research findings into the scientific community; guest researcher places and remote data use are also available. A website with a meta data portal is also provided in addition to the user service to ensure that the provision is transparent.
During the set-up phase, the project was supported by an external project advisory body staffed by members of the scientific community and other research data centres. The set-up and long-term operation of the FDZ in accordance with RatSWD criteria considerably strengthens the DZHW's service and transfer function in many ways and will comprise a long-term benefit for science.
The Research Data Centre started offering its services for the scientific community in June 2017. You can find more information on the website of fdz.DZHW.